Cottonwood Trip: July 4th – 8th 2017
Deposit required: $ 400 at time of reservation
Balance due by June 4th: $ 514.29 ($845 + 8.2% tax ($69.29) = $914.29)
Our 2017 cancellation policy gives you 90 days prior to the trip to cancel and recoup most of your money back. If you cancel your trip on or before April 5th, you will receive 75% or $300 of your deposit back. Cancelling after that date will cause you to forfeit your entire deposit.
 Trip Insurance is highly recommended.  Please check out http://www.allianztravelinsurance.com for more details.
Gear:  We'll need your mailing address so we can send  you a duffle bag to fill with your personal belongings and bring with you. Our website has a great page to answer other questions about what to bring.  http://www.stehekinoutfitters.com.php56-19.dfw3-1.websitetestlink.com/what-we-provide-what-you-should-bring
Bringing your personal tent? We welcome you to, but please drop us an email or give us a quick call prior to the trip so we can plan accordingly.
---
Now the Nitti-gritty details of our adventure: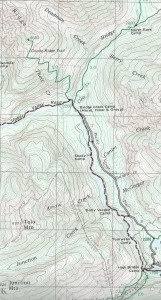 July 4th: Please plan to arrive on the Lady Express boat which will dock in Stehekin at 11:00 AM. We will meet you at the landing, gather your belongings and bring you to the bakery for lunch. After eating, we'll head up the road to the trail
head for the 3.5 mile hike into Bridge Creek Camp.
Green Trails Map #81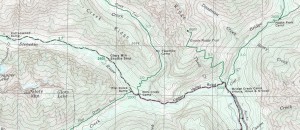 July 5th: We'll get going with breakfast in the morning, have you pack a lunch, then break camp and pack up. You are free to head down the trail as you wish, exploring the old road on the six miles to Cottonwood. Some guests choose to trek up a side trail a few miles as an added bonus, or you can push on into Cottonwood and then beyond.
Side trail options include:
Goode Ridge:                                                                                                                                                                                                                                                           Green Trails Map #81
             Round trip: 11 miles             Elevation gain: 4,600'                Difficulty: strenuous
Flat Creek:                                                                                                                                                                                                                                                        

             Round trip: 6.6 miles          Elevation gain: 500                     Difficulty: moderate
Park Creek:
            Round trip: 16 miles            Elevation gain: 3,800                   Difficulty: moderately strenuous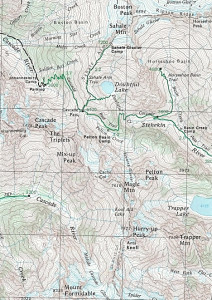 July 6th & 7th: Layover days in Cottonwood. Hiking options:
Cascade Pass:
           Round Trip: 10 miles        Elevation gain: 2,650'                   Difficulty: Moderately strenuous                                                                                                                                                                                                                                
 Horseshoe Basin:
          Round Trip: 3 miles           Elevation gain: 1,150'                     Difficulty: Moderate
                            
Doubtful Lake: 1.5 miles hike takes you up 1,000 feet elevation in 0.7 miles and then down 1,000 feet to Doubtful Lake
                                                                                                                                                                                                                                                                               Green Trails Map #80     Sahale Arm: Instead of descending to Doubtful Lake, continue up to 8,000 feet through meadows to Sahale Arm. *those without experience in climbing should not attempt to traverse the glaciers.
July 8th: Today we'll hike back up the old road to Stehekin, a 9.5 mile trek where transportation will be waiting to take guests to the landing to catch the boat or to lodging facilities in the valley.
---
Do you have food allergies or special dietary needs? Please let us know about them ahead of time so we can plan accordingly. In addition, you may want to pack a few extra snacks that can supplement your lunches.
Getting in and out of Stehekin- Since our trip departs from and arrives back in the Stehekin valley, you'll want to consider your transportation to and from Stehekin. Transportation is not included in the pack trip price.
By Boat: Lady of the Lake Boat Company: www.LadyoftheLake.com
By Float Plane: Chelan Seaplanes: www.chelanseaplanes.com
By Helicopter: Lake Chelan Helicopters: www.lakechelanhelicopters.com
By Foot: You can always hike if you wish.
Want to stay longer? Check out websites for lodging information at:
Stehekin Valley Ranch: www.StehekinValleyRanch.com
Stehekin Log Cabins: www.StehekinPastryCompany.com
Others: www.Stehekin.com
Please email us at StehekinReservations@gmail.com or call 800-536-0745 and we can answer questions or book reservations.
Please don't hesitate to contact us if you have any questions prior to our departure date.
We look forward to your trip!
 Nancy Davis
& Colter Courtney


Cascade Pass: Photo by Clancy Courtney