Stehekin Outfitters' 2021 Kids Camps!
June 21-24
July 19-22
August 16 – 19
Join us this summer for a fun, educational week of horsemanship perfect for kids of all ages.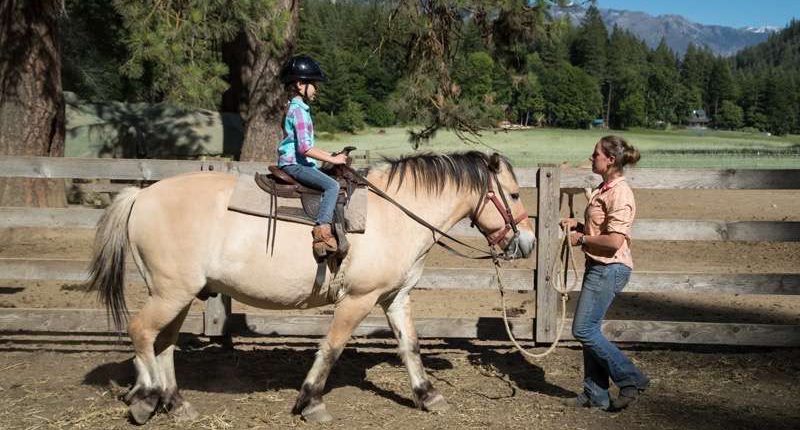 What: A 5 night, 4 day program filled with horses! Mornings will be used for riding lessons and stable management, afternoons will be filled with fun activities like trail rides, obstacle courses and games.
When: 3 offerings!
Camp #1: June 21-24
Camp #2: July 19-22
Camp #3: August 16 – 19
Where: Stehekin Valley Ranch
Who: Kids interested in a first time horse experience or wanting to further their skills. Minimum age 4 years old.
**NEW for 2021 – All campers should plan to utilize the Sonny Jo for their transportation. (tickets are included in Stehekin Valley Ranch rate)
Rates:
Get a comfortable cabin and add camp charge. Children should be accompanied by an adult as camp activities are offered from 8:30 to dinnertime with a free lunch block to eat at the cookhouse with parents. Adults are welcome to partake in any activities the valley has to offer such as biking, hiking, kayaking, visit the Bakery, Rainbow Falls, Buckner Orchard or just relax in one of the Ranch's hammocks and enjoy the beautiful scenery.
Lodging at the Ranch: Includes meals and in valley transportation!
Ranch Cabin: Ranch Cabins are fully enclosed sleeping cabins with their own private bathroom and shower.
All Camps (5 nights)
Adult: $730.50 + tax
Child: $512.50 + tax

Check out StehekinValleyRanch.com for more information about cabins and meals!
Camp Rates: $600 per child for the week
Space is limited so reserve your spot today!
Phone: 509-682-7742 or 800-536-0745
Email: StehekinReservations@gmail.com